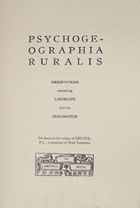 Psychogeographia Ruralis
Observations concerning landscape and the imagination

i. Psychogeography and Psychegeography
ii. Genii locorum
iii. Speculative Meteorology
iv. Music and Subtle Geographies
v. A Musicopsychegeographic Experiment
vi. Psychegeographic Photography
28 pages, 21x14cm

Booklet detailing some of the theory and practice that has developed whiile recoding the music XETB.

Limited to 50 copies with enclosed psychegeographic print.

£3.50

Almost sold out! Please enquire as to availability.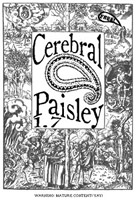 Cerebral Paisley 1.7

Featuring:
Armand Schaubroeck
Mcwatt, Kuchen & A Hawk and a Hacksaw live
Harmony and Musical Magic
Revies: Mark Ellis, Thighpaulsandra, Whitehouse, Fencing Flatworm in Brine
16 page A5 zine
No longer available.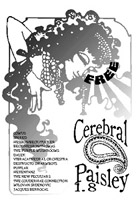 Cerebral Paisley 1.8
Featuring:
Comus
Hession/Beck/Tucker & Sin Red live
The Purple Mushrooms live
The Black Stone in LS3
Dalek, Destructo Swarmbots, Pupilar & Vibracathedral live
Reviews: Hexentanz, The New Peculiars, Beck/Hession/Thomas, Milovan Srdenovic, Jacques Berrocal
16 page A5 zine
No longer available.